The Complete Guide to Porta Potty Rental Costs
Porta potties offer convenient and affordable temporary (or long term) portable restrooms for your next outdoor event or job site. Whether you're hosting a 5k road race, managing a sports complex, or overseeing a construction site, it's important that attendees or employees have the proper amenities available to them. There are many different options when it comes to renting a porta potty, and the main key is finding a portable restroom that fits your needs and budget.
Before we dive into the prices of renting a porta potty, you should know that the costs vary between companies. Each provider has different styles, sizes, and services associated with the rental. You can also choose from a range of features and services, like built in hand sanitizer or frequent cleaning and servicing of the units.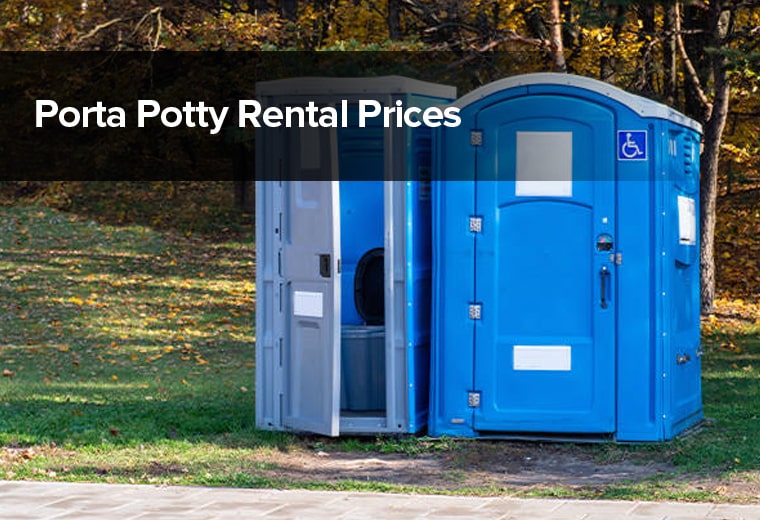 Average Porta Potty Rental Cost
Most companies do not list the cost of renting a portable potty online. In some cases you will find websites that allow users to create a list of desired products, and then they will quote the price. While it's often difficult to find good info on prices, you will find all the information related to costs right here on Budget Porta Potty Rental. In most cases, the average cost of a porta potty rental is $200 per month for an event and $100 per unit for a construction site.
We've compiled a range of rates from both national and local porta potty rental companies. We aggregated the results to determine average costs for different features. All of the options come with weekly cleaning service, which means the provider removes the waste from the restroom or replaces the supplies.
Here are the average monthly rental prices and additional weekly cleaning costs.
Standard Porta Potty - $78, $60
Deluxe Flushable Porta Potty - $165, $75
Construction Site Porta Potty - $152, $95
Trailer-Mounted Porta Potty - $131, $100
Portable Restroom Trailers (10 square feet) - $688, $200
Portable Restroom Trailers (25 square feet) - $1,690, $350
ADA-Compliant Porta Potty - $151, $95
Porta Potty with Baby-Changing Station - $75, $40
Hand Sanitizer - $20
Porta Potty Lock - $20
When getting quotes from local portable toilet companies, it's important to keep in mind that they usually give you the entire cost of the unit, delivery and pick up, as well as the cleaning and servicing of the unit. Always be sure to ask if there are any additional charges and make sure that the quote includes everything.
Factors That Affect Porta Potty Rental Prices
Type of Unit
All porta potties are not equal. The standard units provide a no-frills solution with one low monthly price. If you're managing a construction site, it makes sense to rent basic construction porta potties.
If you're putting on an upscale event, you may want luxury restroom trailers. These rentals cost up to $2,500 and come with amenities ranging from lighting fixtures and air conditioning to baby changing stations. We recommend picking the highest quality porta potty rental that fits your needs and budget. This approach will satisfy your attendees without breaking the bank.
Here are some of the different porta potty rental options to consider for your next event.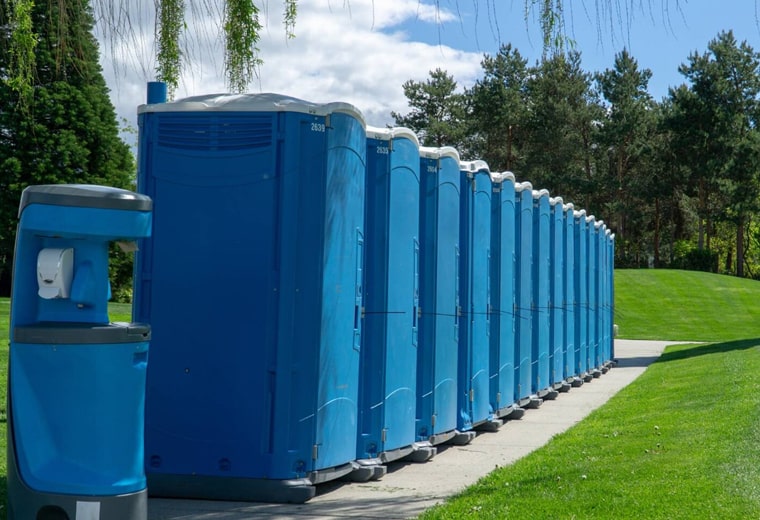 Standard Portable Toilet Rental Cost
Even if you're new to the portable toilet industry, the chances are you've come across a standard porta potty rental already. The unit can handle up to 20 employees working 40 hour weeks. The standard models come with two rolls of toilet paper, a urinal, and an anti-slip floor.
Standard portable toilets cost $78 to $100 per month. That does not include any optional upgrades, such as solar lighting, containment trays, or disposable paper seat covers. The emphasis on only providing basic amenities makes this portable toilet the most affordable option on this list.
Special Event Restroom Rentals / VIP Portable Restroom Rentals
These are similar to standard units, but they are more spacious and look nicer. They are usually stocked with premium toilet paper and are often accompanied by handwash stations and sinks.
Restroom Trailer Rentals
If you want the most luxurious possible restroom experience, rent a VIP portable toilet. The models are perfect for outdoor weddings, long-term construction sites, and corporate events. Each unit comes with a hand washing station and separate facilities for men and women.
Most VIP restroom rentals have a freshwater connection, which gives guests the option to shower. Users can also take advantage of the electrical connections, in case they need to blow-dry their hair or charge their phone. These spacious porta potties cost upwards of $2,500 per month.
Flushing Porta Potty / Deluxe Portable Toilet
Flushing porta potties are the most popular unit for large events. The deluxe porta potty rental provides a budget-friendly restroom with comforting features. It has many of the same amenities as the standard models, including 85 feet of cubic space, anti-slip floors, and wide ventilation slots.
The average deluxe porta potty rental costs $289 per week and $359 per month. The restrooms cost more than standard models because they include a flushing toilet instead of a non-flush collection area. Optional upgrades include stabilizing stakes for high-wind areas and solar lighting systems for evening events.
Trailer Mounted Construction Porta Potties
Trailer mounted toilets resemble standard porta potties atop a compact metal platform. The trailer makes the porta potty easy to move between locations, so it's ideal for expansive construction sites that require frequent moving. The portable restrooms come with 85 cubic feet of space, a non-flush toilet, a urinal, and ventilation below the roof.
You'll need a pintle-hook hitch as well as an electrical connection on your transport vehicle before renting the restroom trailer. The features let you connect the porta potty to your car and move it as needed. The rentals cost $131 per month on average and come with optional amenities, such as solar lighting, hand sanitizer, hasp, lock, and key.
Porta Potty with Sink & Handwashing Stations
The premium porta potty includes a sink inside the restroom or a handwashing station outside of it. Both versions have in-unit water tanks and a foot pedal, so users don't waste any water when washing their hands. The model ensures that you will have a clean and convenient facility.
You can add hand washing stations for $40 to $150, depending on the style. They include a freshwater source, soap, and paper towels at no extra cost. If you want a more affordable alternative, consider hand sanitizing stations, which cost $5 to $30 per unit.
ADA-Compliant Porta Potty
The federal government passed the Americans with Disabilities Act (ADA) in 1990. The civil rights law prohibits discrimination based on physical ability. If you're hosting a public event, you need ADA-compliant portable restrooms, so all of your guests will have equal access to the bathroom.
ADA compliant porta potties cost $151 per month and have twice the space of standard porta potties. They are level with the ground so that people in wheelchairs can get inside. Check out ada.gov to learn if your event requires ADA-compliance.
Short-Term vs. Long-Term Porta Potty Rental Cost
Both short term and long term porta potty rentals come with consistently affordable rates. Short-term units tend to cost a little more per day, and can often cost the same amount to rent for one day or for one month. A standard porta potty costs about $78 to rent for a single weekend and $78 to $100 for a month.
Porta potty rental companies typically charge more on the weekends because they have higher demand. You can capitalize on discounted prices if you get more units, rent for a long time, or rent during the week. Note that luxury models and restroom trailers cost more daily than standard porta potties, and they are often in higher demand so you should try to reserve much further in advance.
Long Distance Porta Potty Rental Price
Porta potty rental companies serve people and businesses in their communities, but they are often willing to travel outside their standard service area. If you are hosting a large event and need many units or are willing to pay delivery charges, most companies will provide service. Most providers charge extra for delivery if your event is more than 50 miles away from their headquarters.
Expect either a long-distance fee or a price per mile fee for the delivery. The charges can cost as little as $25 or upwards of $200. Ask the provider about distance charges during the quote, so you don't have any surprises later.
Other Fees
Porta Potty Supplies
If you need your portable toilet rental for multiple days, you'll need a small mountain of supplies. Companies include everything from toilet paper to hand towels for you, so you don't have to purchase supplies yourself. Some of the most common items include:
Heating
Air conditioning
Light options
Sink with foot pedal
Antifreeze
Urinals
Hand sanitizer
Air freshener
Baby changing station
Soap or antibacterial gel
Porta Potty Cleaning Service
Portable tolet companies sanitize their toilets before delivering them to your location. They also clean the porta potties once a week for no additional fee. The frequency of cleanings depends on your specific needs and the number of people using them.
More frequent cleanings will cost you more. An event such as a multi-day music festival or a long-term construction project may need multiple service visits per week. Most companies charge between $40 and $250 to clean portable toilets twice weekly.
Portable Toilet Rental Deposit
Portable restrooms require an initial deposit to secure the rental. The fee covers any damage or excessive wear and tear during the leasing period. The rental deposit incentivizes renters to keep the porta potties in good shape and return them in the same condition that they were delivered.
The rental deposit's cost and conditions vary from supplier to supplier. Some may return the deposit after you pay the final bill, while others deduct it from your total expenses. If you cancel near the event date, some companies will keep the deposit as a penalty fee. Make sure to ask your provider about the terms and conditions before you pay the security deposit.
Porta Potty Damage Waiver
People have a habit of damaging and destroying porta potties. Do a Google search, and you'll see multiple stories about users tipping over portable restrooms with people inside or drivers accidentally hitting the toilet. There are even instances of portable toilets blowing up because of homemade explosives.
If people damage your porta potties, you'll have to pay thousands of dollars for repairs and replacements. You can mitigate those expenses with a damage waiver. Opt into the agreement to avoid an unwanted repair bill if someone damages your porta potty rental.
Late Fees
If you rent a portable potty, you are not responsible for returning it. The provider will pick it up after your event. You may experience late fees if the porta potty rental company can't access the toilets due to a locked gate or any other reason.
The most common problems include improper restroom placement and trucks being unable to get close enough to the units for retrieval. Some people even forget to give the crew access to the property that holds the portable toilets. Companies charge roughly $78 per late day for standard porta potties.
Emergency Porta Potty Rental
Perhaps you planned an entire festival, and then, at the last minute, realized had forgotten to order portable toilets. Maybe you need a porta potty rental for a disaster relief area or another urgent situation. If you find yourself in a pinch, you can ask the porta potty provider to expedite the delivery.
Emergency porta potty rentals vary based on the order size, the number of crew members, and delivery distance. You can also expect to pay more for faster deliveries. Make your porta potty rental reservations as early as possible to avoid emergency fees.
Finding Cheap Porta Potty Rentals That Fit Your Budget
Compare Quotes
Save money with comparison shopping. Seeing multiple porta potty quotes side by side lets you quickly find the best offers. While this strategy takes a little more time and effort than accepting the first offer you find, you'll make up for it with extra cash in your pocket.
When you need porta potties to rent, we have you covered. Enter the type of porta potties you want, the location, and the time. We'll provide you with a free quote in just a few minutes.
Choose the Right Type and Number of Porta Potties
The right portable toilets depend on whom you're serving. Having units with a baby-changing station doesn't make sense for the restroom at a construction site. The same applies when purchasing trailer-mounted porta potties if you need to serve people in wheelchairs.
Two factors influence the number of porta potties you will need: the number of attendees and the event duration. OSHA Sanitation Standard for Construction mandates at least one portable toilet for every 20 workers. That number jumps to one toilet and a urinal per 40 workers for larger construction sites.
The longer the event, the more portable toilets you'll need. A ten-hour event requires twice as many restrooms as a four-hour get together. Increase the number of portable toilets by 10% to 20% if you're serving alcohol at your event.
Ask What's Covered in the Porta Potty Rental Price
Ask the porta potty rental company what amenities they include in the rental price. You should anticipate each hand washing station to cost $40 to $150, while hand-sanitizer stations cost $5 to 30. You may also want mirrors, portable heat or air conditioning, and bathroom attendants.
Make sure the porta potty rental company includes waste removal in its quote. Additional weekly cleaning costs almost as much as the monthly rental itself. A standard porta potty rental is about $78 per month, while the cleaning costs $60 per week.
Use Your Own Supplies
If you want to save money, buy supplies out of pocket. Toilet paper, hand sanitizer, and hands towels cost much less when you buy them in bulk from a wholesaler instead of a portable-toilet-rental company. Many providers give you an a-la-carte list of options, so you can choose what items you do and don't want in advance.
Get a Free Estimate
Porta potties can come in all shapes and sizes, ranging from standard units to luxury ones. When you want to find the portable toilets that fit your budget, Budget Porta Potty Rental can help. Call (866) 428-9194 or use our online form to get a free estimate on your next purchase. We look forward to hearing from you!