Everything You Need to Know Before You Rent a Porta Potty
While renting porta potties may not be the most glamorous part of event planning, it's arguably the most important. Well organized restrooms ensure that your guests have the amenities they need to enjoy your festivities. If you're wondering where to start when renting porta potties, we're here to help.
Our guide lets you navigate all your questions about porta potty styles, costs, quantities, and more. We even have tips to help you find the best location for your units. Here are the insights you need to ensure your event goes off without a hitch.
If you would like to speak to someone about portable toilet rental, Budget Porta Potty Rental is here to help. Call (866) 428-9194 or use our online form to get a free estimate on your next rental.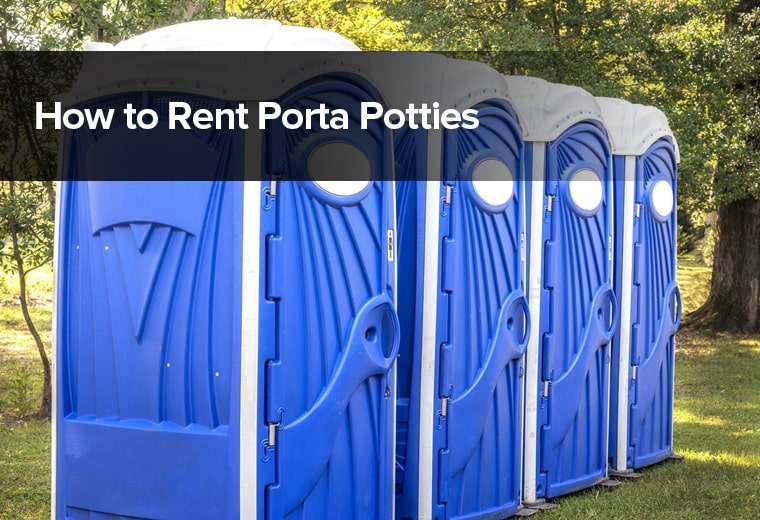 Factors to Consider for Events
The key to any successful event, other than enough bathrooms, is planning. Take a moment to review your event details if you haven't already. The information will provide the groundwork for what types of porta potties you need.
Some considerations include:
Event type and location
Number of attendees and the type of porta toilet that will suit their needs
Weather forecasts
Event duration, including the porta potty pickup and delivery times
How frequently you want the rental company to clean the units
The number of attendees and the event duration are the two most important factors when deciding how many to rent. If you operate a business with 20 or fewer people, you should be okay with one portable toilet. For private events, the ratios change, so please consult with us.
Once you have an idea of how many portable toilets you need, it's time to get a quote. Get an estimate from at least three companies before you commit to one. Comparison shopping allows you to compare quotes side by side to get the greatest fit for your needs. You can even leverage one estimate against another to try and lower the final price.
Where to Use a Porta Potty
When most people think about porta potties, they think of construction sites. Rentals offer a short term solution for workers to go to the bathroom without leaving the worksite. Construction sites are only the tip of the iceberg, however, with many other popular uses, including:
Birthday parties
Campgrounds
Concerts
Corporate events
Emergency relief sites
Farmers' markets
Food and music festivals
Graduation parties
Home renovation sites
House parties
Outdoor fundraisers
Parades
State fairs
Weddings
Reasons to Rent Porta Potties
When nature calls, it's nice to know you have a portable toilet nearby. A porta potty guarantees that you will have a safe, accessible, and private space. If you're hosting a large event, a porta potty rental keeps guests satisfied.
Many people rent a portable restroom because they have inadequate facilities. Perhaps you are in a park and don't want guests wandering into the woods. You may be tailgating and need a place in the parking lot where people can relieve themselves.
Whatever your reason, portable toilets deliver comfort and convenience. You don't have to worry about moving or cleaning the restrooms, either. Just contact your porta potty company, and it will take care of the heavy lifting for you.
Decide What Type of Porta Potties You Need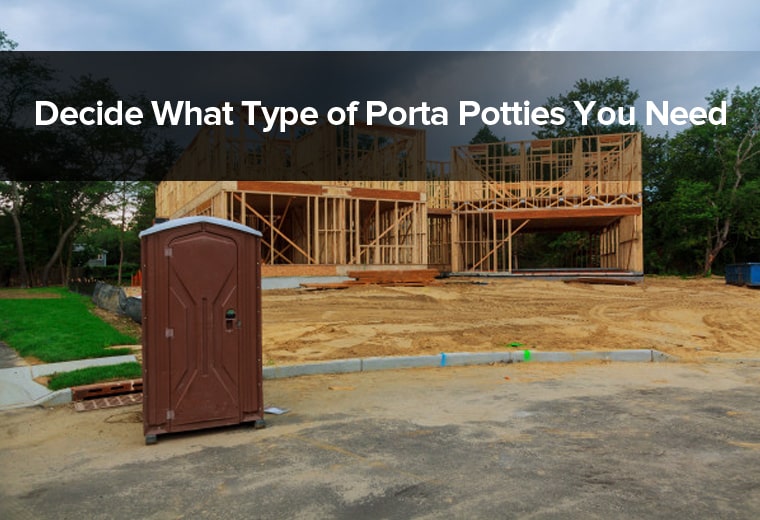 Types of Porta Potties
Porta potties come in all shapes and sizes. Determining your guests' needs will dictate the best style for your event as well as which features to request. If you manage several construction sites, it doesn't make sense to rent restroom trailers with baby-changing tables. The same goes for renting a high rise construction toilet if one of your attendees uses a wheelchair.
The most common porta potty unit types include:
The standard porta potty
The deluxe flushable porta potty
The towable or trailer mounted porta potty
The high-rise, crank-hook, or rollable porta potty
The ADA-compliant porta potty
The solar porta potty
The green or environmentally friendly porta potty
Each option has distinct pros and cons. A standard portable toilet offers a convenient and affordable solution without frills. This basic rental makes senes if you oversee concerts, home renovations, or construction sites. For more information check out our guide on types of porta potties.
Restroom trailers make the experience more luxurious. They include many of the features associated with residential bathrooms, such as lighting, counter space, heating and cooling, and flushing toilets. The high-end units work for film sets, weddings, and other premier events.
Porta Potty Amenities and Extras
A standard porta potty serves up to 20 employees working 40 hours a week. Every rental comes with some complementary features, such as two rolls of toilet paper, anti-slip flooring, ventilation, and an occupancy indicator. You can upgrade your standard portable toilet with a range of features if you want a cleaner or more comforting environment.
Possible upgrades include:
Hand sanitizer
Hasp, lock, and key
Containment trays
Solar lighting
Baby changing stations
Stabilizing stakes
Disposable paper seat covers
Flushing toilet
More frequent cleaning service
Handwashing stations
Each of these features costs a small fee. Expect to pay $40 to $150 for handwashing stations and $5 to $30 for hand sanitizer. Make sure to ask your rental company about the built-in portable restroom features, so you can see what amenities and extras you need.
Decide How Many Porta Potties You Need
You should have at least one porta potty per 50 people if you're hosting a large event. Double that number for every four hours of event time. If you have a 500-person event that lasts four hours, you need ten portable toilets. If that event lasts eight hours, increase the number of restrooms to 20.
You may need more units if you work for a business or organization. The American National Standard Institute recommends at least one portable toilet per ten workers. Remember that these figures serve as rules of thumb, although ordering more portable bathrooms than necessary makes your life easier. Nobody wants to spend a large chunk of time waiting in line to use a restroom at any event.
Porta Potty Cleaning Service
How Porta Potties Are Cleaned
Cleaning porta bathrooms is like knowing how the sausage gets made. We don't need to know the details, but we are glad the service exists. Porta potty providers include weekly waste removal with the rental, so you don't have to empty the contents. Rental companies can turn a profit if they offer more frequent cleaning service - which costs almost as much as a one month porta potty rental.
All portable bathrooms have a waste collection area underneath the toilet. The cleaning service removes the waste with a small hose. Suction transports the waste into a nearby sanitation truck. The cleaning service brings the contents to a wastewater treatment plant, where workers clean the water.
After removing the waste, the cleaning service sanitizes the interior. That includes using odor control chemicals and disinfectants to wipe down each surface. Some additives have a greenish tint, so you can tell when workers clean the rental units.
Nothing sends a jolt of fear into your heart like running out of toilet paper. Your cleaning service will restock supplies, so you don't experience any unwanted surprises. Workers will outfit standard porta potties with two full rolls of toilet paper, soap, paper towels, and hand sanitizer.
Scheduling Porta Potty Cleaning Service
If you have enough portable toilets, you should be fine with one cleaning service per week. Workers will remove the waste, clean the interior, and replace supplies during their visit. You might want more frequent service for large events or construction sites, where more people go to the bathroom.
Arranging for cleaning service ensures that you have a spotless environment that keeps guests satisfied. Portable toilet companies typically charge $60 extra if you want one extra bi-weekly cleaning. That figure goes up to $120 per month for seven cleanings per month.
If you rent a deluxe portable toilet, expect to pay around $165. If you want additional cleaning service, rental companies charge approximately $75. Cleanings become more expensive for higher end and ADA compliant units, costing as much as $350 for one week.
Request Quotes from Porta Potty Rental Companies
While you could make a DIY porta potty for less than $20, you're better off getting one from a professional rental company. A reliable and clean portable toilet shouldn't cost you more than $150. The average cost depends on several factors, including your location, number of attendees, and rental duration.
We looked at portable toilet prices for national and local rental companies. We combined their rates and came up with monthly averages for each rental type. The following figures include the cost of one porta potty and one additional cleaning session.
Standard porta potty - $78, $60
Deluxe flushable porta potty - $165, $75
Towable or trailer mounted porta potty - $131, $100
Crank hook, or rollable porta potty - $152, $95
ADA-compliant porta potty - $151, $95
Solar porta potty - $450, $75
Green or environmentally friendly porta potty - $78, $60
Extras may include:
Baby changing station - $75
Portable handwashing station - $93
Hand sanitizer - $20
Portable toilet lock - $20
Luxury portable toilets have the highest price tag. Some units cost between $600 and $2,500 per day. They require tow trucks to deliver them, more maintenance, and expensive manufacturing; all services that drive up the final price. For more information check out out porta potty rental cost guide.
We recommend the highest quality portable toilet rental that fits within your budget. It maximizes your guests' satisfaction without breaking the bank. If you're renting for a short period, you can save money by renting during the week since rental companies have higher demand on weekends.
Choose a Porta Potty Rental Company and Finalize Schedules
Before you commit to a portable toilet provider, consider three things: your needs, budget, and cleaning services. Each portable toilet should accommodate users, whether they need a place to relieve themselves or change their baby. If you have an upscale event, consider going with a luxury restroom trailer, which has high tech
accommodations.
Get a quote from portable toilet providers to see if their estimate fits your budget. Most companies will provide you a quote that details what services and features they provide. Don't forget to ask about upgrades, like hand sanitizer or disposable toilet seat covers.
Check that the company has rigorous sanitation practices. The portable toilet provider should keep the amenities in tip-top shape, so you stay compliant with OSHA regulations. You also want to mitigate any potential health complications.
If you're unsure about a company's reputation, see what other people have to say online. Review sites, such as Yelp and Angie's List, offer first-hand accounts of a company's service. Once you check all these boxes, you can finalize your schedule for delivery, cleaning, and pickup.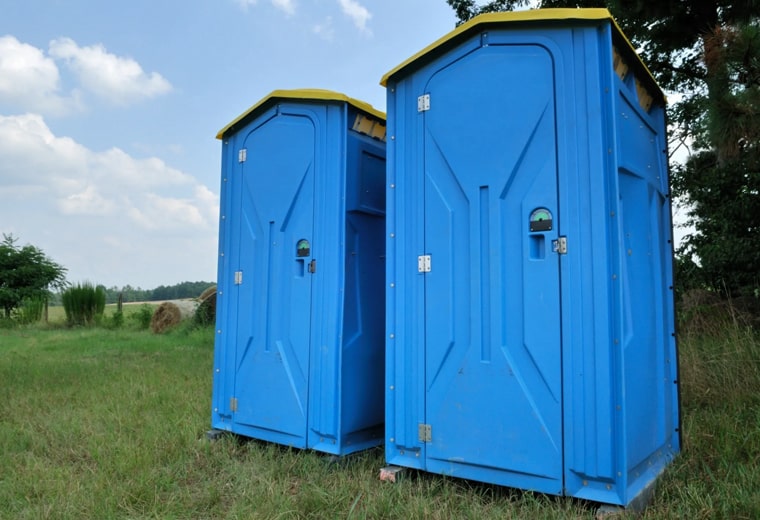 Porta Potty Placement Considerations
Porta Potty Placement Rules and Regulations
Believe it or not, government organizations oversee the safety and health rules for porta potties. The Occupational Safety and Health Administration (OSHA) has guidelines to ensure that companies and organizations maintain a clean environment. Some of the regulations concerning porta toilets include:
All workers must have access to a porta potty, with the number of employees dictating the number of units
Each porta potty must have doors that close completely and are high enough to protect the occupant's privacy
There must be an equal number of portable toilets for men and women
The water that people use to clean their hands must be separate from the wastewater
The inside of the porta potty must be hygienic at all times
The porta potty must have toilet paper, water, and soap at all times
The porta potty door must lock from the inside and have adequate ventilation
OSHA inspects portable restrooms without warning. An inspector shows up to your event or business, identifies themselves, and performs an industrial hygiene inspection. The lack of notice incentivizes managers to keep their portable toilets clean all the time.
Accessibility
The Americans with Disabilities Act (ADA) prevents discrimination based on ability. It provides equal access to portable bathrooms, whether you have a physical impediment or not. The civil rights law applies mainly to public organizations and spaces that fit one or more of the following criteria:
Local, county, state, and federal government agencies
Businesses that serve the general public, such as post offices, airports, and libraries
Privately run businesses with 15 or more employees
Non-profit organizations and charities with 15 or more employees
The definition of public accommodation covers a wide range of organizations. That includes everything from sports stadiums to schools and public parks to parking garages. If you operate one of these facilities or plan to host a special event, at least 5% of your porta potties must be ADA-accessible.
Location
Before you place a portable toilet at your event, be sure to measure the dimensions of your space. Proper measurements will guarantee that you have enough space. Most standard portable toilets are 10 square feet, with ADA-compliant models taking up 25 square feet. If you believe they will not fit, consider redesigning your event's layout to accommodate the porta potties.
Choose a spot with a level and weather-resistant surface. When you're managing a special event, the last thing you want is porta potties tipping over in the wind. If your location doesn't have concrete, firm grass or another firm surface nearby, opt for restroom trailers. The rental company secures each portable toilet to an elevated platform, maximizing portability and minimizing headaches.
Crowd Control
It's almost impossible to overstate the importance of design when organizing an event. If you're managing a music festival, you want to have all the festivities appropriately spaced so that people can easily access what they need without overcrowding. Optimal porta potty placement lets you control foot traffic.
We recommend placing your porta potties near the food and beverage vendors or another recreational area. The placement puts the porta potty rentals away from the main event without requiring a cumbersome walk. It also spares attendees from the unpleasant smells that can be associated with porta potties.
You may need to post signage at your event to facilitate foot traffic. While many people will find the portable toilets by sight, many other guests will wander around in search of the bathroom. Consider placing your porta potties in multiple locations so that people don't have to walk as much.
Security
If you're new to the portable restroom industry, you may raise an eyebrow at the idea of security. Do a quick search of portable potty vandalism, however, and you may reconsider. There are many news stories about people tipping over, damaging, and even blowing up portable restrooms.
A security guard deters any kind of destruction at your event. The short-term investment ensures that you don't lose your initial deposit or pay for repairs. If you're on a tight budget, host your event somewhere with a fence or barrier, so pranksters or vandals don't damage the portable toilets overnight.
Think of your investment in security as a form of insurance. You're paying someone a hundred or so dollars to prevent damage. If you didn't have this insurance blanket, you would risk spending thousands of dollars in repairs and replacements.
Weather
Many business managers and event organizers fail to consider the weather when placing their portable toilets. Even if you anticipate sunny skies, prepare for the worst. Proactive thinking ensures that you don't have porta potties tipping over in high wind or restrooms sinking into the mud following heavy rain.
Avoid placing your porta potties on dirt, grass, or another organic surface. These areas become soft after precipitation. If it does rain, it may be challenging for your guests to reach the porta potties without making a mess in the process. You may also need stakes to secure the porta potty rentals to the ground in case of gusts.
Many porta potty companies will struggle to retrieve restrooms on damp soil. If the crew cannot put the unit on their truck, they may charge you a late fee. Protect your guests and your wallet by placing the portable toilets in a spot with overhead coverage and on a solid surface, like concrete or asphalt.
Get a Free Estimate
Are you ready to rent porta potties for your next event? At Budget Porta Potty Rental, we have you covered. Use our online form to enter your location, timeline, and desired products. Our knowledgeable and friendly staff will get back to you with a free estimate for your porta potty rentals in a matter of minutes or hours.
Renting porta potties has never been this easy. Whether you're managing a long term construction site or hosting a multi-day festival, we ensure that you get the restrooms you need at a price you love. Call (866) 428-9194 or click to get started today.